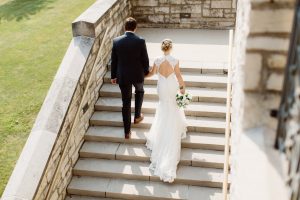 Better late than never, I am getting around to writing all about the details from my wedding. I'm going to try to keep this as condensed as possible and just focus on the pictures! Any vendors/shops I mention in this post I highly recommend if you are getting married in the Chicago-land area. I also made a quick list at the bottom that is kind of a summary of this post!
Our wedding day was September 2, 2017 in St. Charles, Illinois at Baker Memorial United Methodist Church and the reception was held at Royal Fox Country Club. The church is the one I have gone to for over two decades, so the location was very special to me. This day was so beautiful and we could not have imagined better weather. We had relatives and friends in from all across America and even guests flying in all the way from Australia.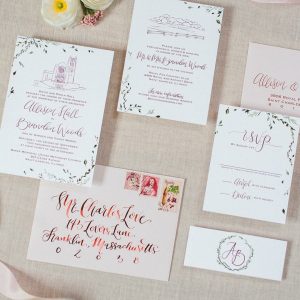 One of the first things I had to order when planning were invitations and  I wanted a pretty unique and personalized design. I went with Caitlin at Wouldn't it be Lovely and my experience was amazing! Caitlin was able to make all of my wishes come true when it came to the invitation and creating a personalized one that exceeded my expectations, especially the hand addressing and wax seal!
So excited to share these pictures with all of you! I will start with the gorgeous flowers. I did not want a 'color' for the wedding, but I did have a range of colors including pastel purple, deep purple, dusty pink, white, and greenery. My florist, Bella Flora, did an absolutely amazing job and I could not have even dream of what she made come to life! If you have a wedding or event in the Chicago-land area you NEED to use Bella Flora, they even can provide a Photobooth!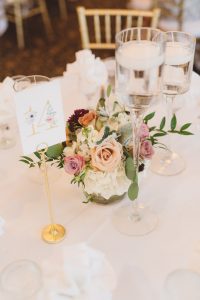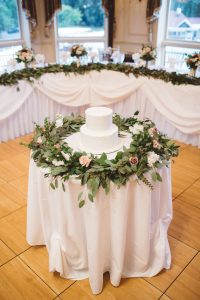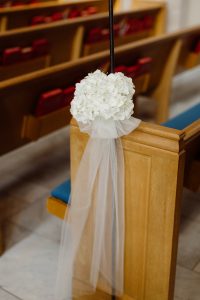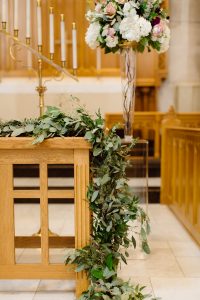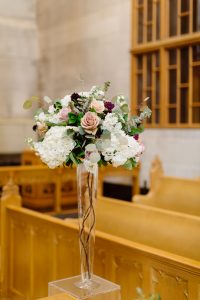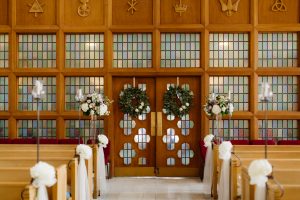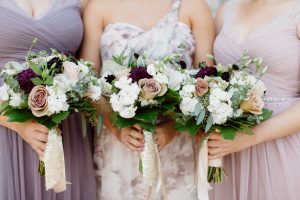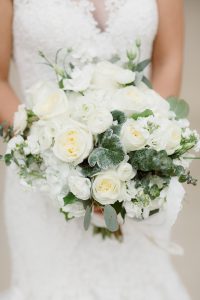 On to my beautiful bridesmaids dresses. I chose a range of colors, fabrics, and even pattern to go along with my overall vision. Four out of my six bridesmaids wore the Fleur dress from BHLDN, two in the Antique Orchid and two in the Rose Quartz. I had such an amazing experience at BHLDN that I will talk about later in this post! This dress is very versatile for body types, skin tones, and hair colors. My other two bridesmaids wore Jenny Yoo dresses in the Lavender Multi color. I was able to get my bridesmaids great patterned robe from Etsy at a shop named Joyful Tidings Bridal.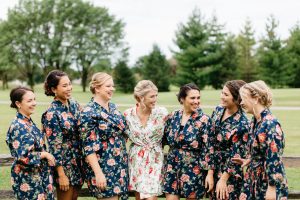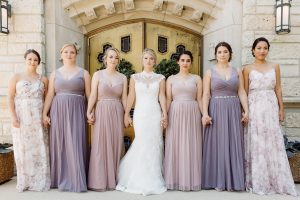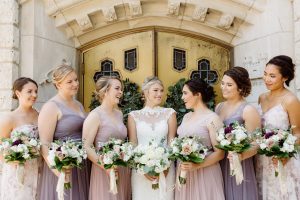 I did have two bridal dresses, one for the ceremony and one for the reception. My ceremony dress was an Eddy K brand that I got from Bri'Zan Couture in Naperville. The main reason I loved this dress so much is because I knew it would go so well with my mother's veil, and that was so important to me. My reception dress was from BHLDN, and I absolutely loved it from the first time I tried it on at the Chicago BHLDN store. I absolutely recommend any bride making an appointment to try on dresses there.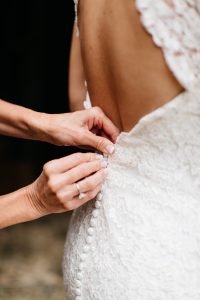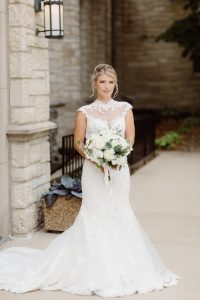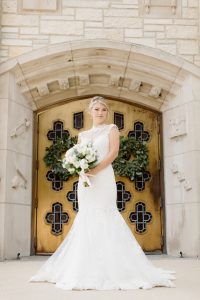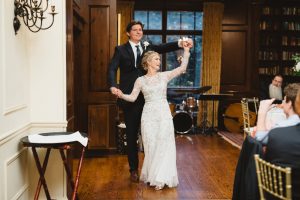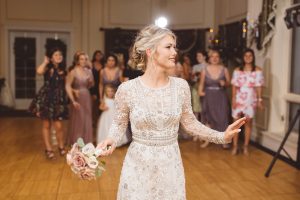 All of the hair is done by the ladies at Beautiful You Salon in St. Charles. For makeup I used a personal contact I have here in the Chicago, she was so amazing and if you need a makeup artist please reach out to me on social media and I will give you her information! All of our beauty vendors  were SO amazing and were able to meet our every need.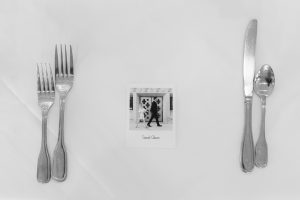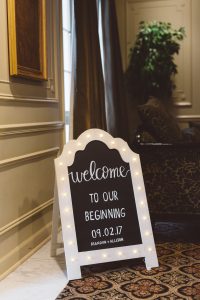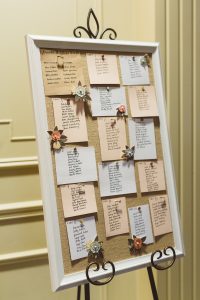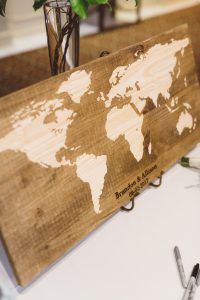 I also did a little something different with the place cards for each table, I used the Vintage Poloriods from foxprint.com and used our engagement photos and then had each guest name on them. It added a touch of personalization and I got great feedback from taking a risk and trying something new. I also want to mention my wonderful calligrapher Jenna. She did an absolutely amazing job on all of the projects I had in mind. She did our personalized signs and helped create a beautiful seating chart sign that guests saw coming into the reception venue. If you need calligraphy contact on Instagram at @yellowbugcalligraphy. I also had a sign when guests could see right when they came into the reception that I got from the Etsy store Crafty Hands Full Heart. It can just as described, and is a wonderful keepsake.
My amazing photographer was Maggie Fortson and my videographer was Windy City Production , who made an amazing memory for us to cherish forever!
Church: Baker Memorial United Methodist Church
Reception: Royal Fox Country Club
Invitations: Wouldn't it be Lovely
Flowers: Bella Flora
Dress: Bri'Zaan Couture
Dress (Reception): BHLDN
Bridesmaids: BHLDN and Jenny Yoo
Suits: Men's Warehouse
Photography: Maggie Fortson
Place Cards: Foxprint.com
Wooden Sign: Crafty Hands Full Heart
Videography: Windy City Production video can be viewed here!
Robes: Joyful Tidings Bridal
Hair: Beautiful You Salon
Makeup: Personal Contact- please contact me for more info!