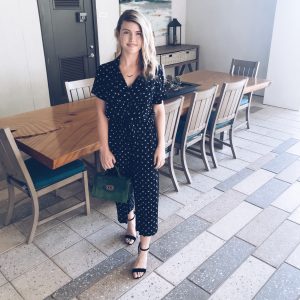 Hi! I thought in addition to sharing the super cute jumpsuit I got (for under $30!) I would share 5 things about myself since I haven't really done something like that yet here on the blog. Enjoy!
1. I recently moved from Chicago to Phoenix and am absolutely loving it so far! The weather is amazing and there is so much to do. I am creating a Phoenix Guide on my blog to share all my favorite places to go so that if you are in the area you can check them out. My favorite things about where  I live in Tempe is that I can walk to restaurants and am central to shopping!
2. I work as a marketing project manager at a company that manufacturing polyurethane foam. This is something that I never thought I would be into but I am absolutely loving the new challenges that comes with a new industry.
3. My favorite places to shop are: Von Maur, Asos, and of course Target. I like to mix lower priced trendy pieces with more luxury basics. My everyday wardrobe is business casual for work.
4. I am newly married to my husband Brandon. He is the one who takes most of the pictures for my blog right now lol!
5. I like art history (even though I know very little about anything) and help run the account @CultureQuota with my friend Beatrice.