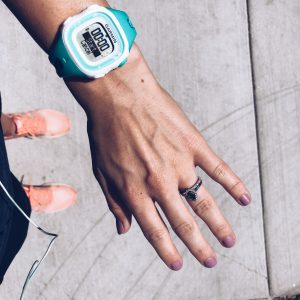 Hi everyone! I thought I would post about my workout essentials, including my clothes and accessories. I will start off by saying that I have workout staple accessories and I don't spend a ton on my workout pieces. Most of my workouts including running so that also influences the pieces I have.
My first item is my Fitbit Zip, which I wear all day. This tracks my steps mainly and I like the zip because I can wear it under my clothes.
The next item I have is my Garmin Forerunner 10 watch. I absolutely love this watch to track my distance and time for runs, if you run a lot I recommend investing in this piece.
The most important item for workouts for me are my shoes, and for me comfort is key. My Asics are very comfortable and I love the bright orange color.
The headphones that I use are still corded ones, old school I know. I use the corded because I don't want to have to charge one more thing. My Bose headphones is one of my best investments.
My clothing for working out is a mix that I keep rotating every workout. For me the most comfortable shorts are Under Armour. I will admit my shirt choice is often shirts that I have picked up from different events because they sometimes have the softest fabric! I also love to try new tops that are budget friendly.
Shop some of these items below! Do you have any favorite workout essentials?