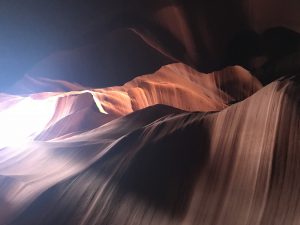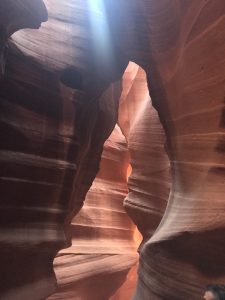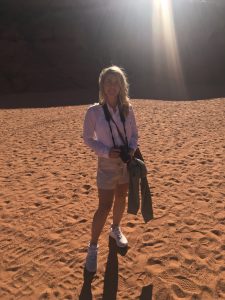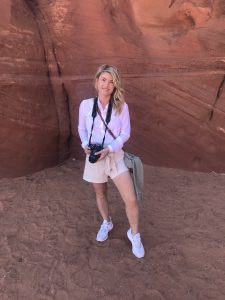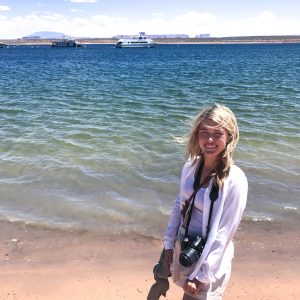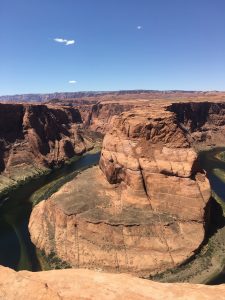 Hi! This weekend me and my husband Brandon headed up to Page, Arizona to visit Antelope Canyon and some other sites. We had the best time and I wanted to share all of the places we went.
We started by driving from where we live in Phoenix up to Page. We stopped in Flagstaff (went to Target because Brandon forgot his shoes) and got dinner. We kept driving to Page and in total the trip was about 4.5 hours of drive time. Since we drove up Friday night we stayed at a hotel in Page because our tour was early the next morning. We stayed at the Wingate hotel, I'd highly recommend if you are staying overnight in Page. It was clean and a great price, also the tour place was about a 3 minute drive away. On Saturday morning we got to Antelope Canyon Tours bright and early and got started on the tour. The tour started at the tour place in a little storefront and we were driven there in one of those trucks with seats in the back, it was a bumpy ride/partly off road. I would recommend this tour company because of the following reasons:
The tour started on time
The tour guide was very knowledgable while giving us the tour in the canyon
Reasonable price
Easy reservation online
Antelope Canyon was amazing, even better than the incredible pictures I'd seen online. Inside the canyon was sort of cool (even though outside of it was very hot!) so I'd recommend wearing a long sleeve shirt or bringing a light jacket.
After our tour we headed back to the hotel to check out and then headed to lunch at a place I'd found online that had a view of Lake Powell. To get to the restaurant we did enter Glen Canyon National Recreation Area and had to pay $25 fee (well worth it for sure). The restaurant was called the Driftwood Lounge and had a good view of Lake Powell and we enjoyed our meal. After this we walked down to the water to take in the view and then hopped back in the car. From here we drove a few minutes to Horseshoe Bend. To actually get to the lookout point there was about a 15 minute walk/hike. It was Saturday afternoon so there was a lot of other people there, but it was still a great experience to see this incredible sight. After this we got on the road again back to Phoenix because we didn't want to be driving at night again.
Overall this was a great weekend getaway for any of you who live in Phoenix, or even just visiting. The drive is a bit long, but there are so many great things to see in Page that can be done in about 24 hours!
Below I have included shop-able links to the outfit I wore on Saturday and I cannot recommend this type of outfit enough. I wanted to look cute for pictures, but also not be really hot/sweaty.