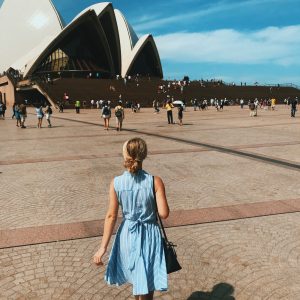 Hi everyone! I am putting this together to share my favorite spots in Australia and about my most recent trip to Hawaii. I'm also including some of my favorite travel items for long trips!
My husband's family live in Australia so our trips are different than your regular tourist, that is why I won't be sharing anywhere to stay in Australia and instead just some more of my favorite spots and hidden gems. We made our trip to stop over in Hawaii on the way there for a night and on the way back for two nights. We found this to be an amazing way to split up the long flight and enjoy a quick getaway in Hawaii.
My favorite spots in Australia
Sydney Opera House- one of my favorite places in the whole world. Take in the best views by enjoying a drink at the Opera House Bar.
Lavender Bay- this is where my husband and I got engaged. Located in North Sydney it has amazing views!
Soldiers Beach- this spot is in the central coast so you would need to take the train or drive a ways from Sydney but trust me this beach is worth the trip. So amazing! Get the hot chips at the coffee shop, don't forget the chicken salt!
Caves Beach- another spot in the central coast that is such an amazing beach with great views and a spot to grab some food.
Hawaii trip details
Stayed at the newly rebranded Alohilani Resort and it was amazing if you are staying in Honolulu. We loved taking our rental car around the island and checking out the beaches.
Travel Tips
On a long trip my advice is be prepared for the flight with snacks and plenty of entertainment. I also like to have face mist, hand wipes, and lots of layers. I got really cute travel organizers from Target and they helped with packing a lot, they don't have the exact ones online but the ones listed below are really similar! My Soludos were really versatile shoes that I was able to wear with a lot of different outfits. I also got so much use out of my J.Crew long sleeve polo shirt because it was so easy to wear no matter where we were going. The one item I am so glad I got before I left is my tote bag that I used at the beach. It was affordable and so I was fine with putting all of my beach items in it and not worried about all the sand. Shop my favorites below!
<!– COLLECTIVE WIDGET CODE START –>
<div class="shopsense-widget" style="text-align:center" data-options="%7B%22widgetId%22%3A%225c4d05f08be45c4372906485%22%2C%22pid%22%3A%22uid1376-40667876-71%22%2C%22url%22%3A%22https%3A%2F%2Fapi.shopstyle.com%2Fapi%2Fv2%22%7D">
<script id='shopsensewidget-script' src="//shopsensewidget.shopstyle.com/widget-script.js?cb=1548550160949″></script>
</div>
<!– COLLECTIVE WIDGET CODE END –>